Dental Implants in Columbia
Oak Hall Dental
offers complete dental implant options to help restore your smile.
Our dentists
are skilled in implant placement and restoration, providing affordable start-to-finish treatment in one office.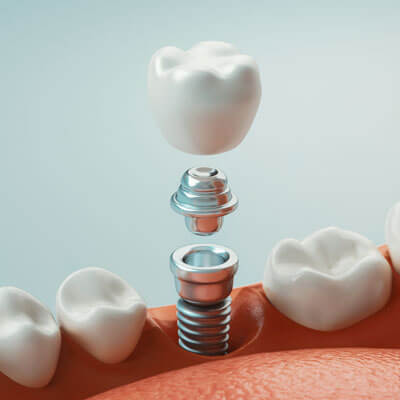 What Are Dental Implants?
An implant is a titanium or zirconia/ceramic post that sets inside your bone and supports a dental crown or other restoration. They are naturally modeled to look and feel like real teeth.
Implants help prevent the natural collapse of your facial profile, which is a common side effect of tooth loss. Their extremely high success rate (over 99%) allows them to last for at least 20 years or more, while functioning nearly identical to natural teeth.
Who Is a Candidate?
Anyone already missing teeth or at risk of tooth loss because of gum disease may be a candidate for implants. As long as there is adequate bone support and the patient meets age requirements (usually over the age of 22), they are typically a candidate.
What to Expect
There are two types of implant treatments that we offer: traditional and immediate placement. Depending on which tooth needs to be replaced, one may be more appropriate than the other.
Immediate implant placement is when we install a dental implant on the same date a tooth is removed. In contrast, conventional implant treatment will require the area to heal for a few extra months.
After installation, implants need approximately 3-4 months to integrate with the bone around them. Then we place a healing abutment and take impressions for the fixed crown, bridge or All-on-4 restoration. A few weeks later, you'll return to permanently fix your appliance.
The first visit usually requires less than an hour, with the second appointment only about 30 minutes.
Tooth Replacement Options
For single missing teeth, we can place an individual implant and a custom crown on top of it. In other instances, we can use anywhere from 4-6 implants to anchor a full-arch restoration. These All-on-4 and All-on-6 systems use a set of crowns attached together, which don't come out like dentures.
Sedation Options
We perform every aspect of your affordable implant procedure in our office. To ensure your comfort, sedation is available upon request. You can choose between lighter laughing gas (nitrous oxide) or deeper oral sedation.

Dental Implants Columbia MD | (410) 964-2422