Laser Periodontal Surgery (LANAP) in Columbia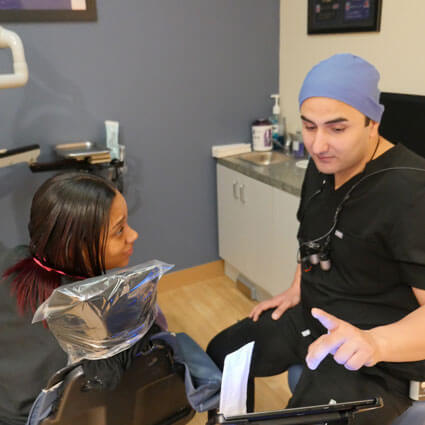 Laser Assisted New Attachment Procedure (LANAP) is an FDA-approved and cutting-edge service that provides effective treatment for gum disease as an alternative to conventional gingival surgery. The dentists at Oak Hall Dental offer LANAP to improve results, reduce the number of treatment visits required, and improve recovery time for our patients.
New Patients

How Does LANAP Help?
We are one of the first dental practices in the area to offer LANAP and laser dental treatment for gum disease. This system treats periodontal infections at their source by eliminating bad bacteria and infected tissues. In turn, pocket depths around your teeth are shortened, since the tissues are stimulated to re-attach to the teeth.
Our laser periodontal patients see better results following their treatment compared to those only receiving conventional deep cleanings.
What to Expect
During your LANAP procedure, the thin laser tip is traced around each tooth inside the periodontal pocket (gingival sulcus). It's normal to feel a bit of warmth around the teeth, but no discomfort. Applying the laser inside these spaces helps
Reduce swelling
Prevent bleeding
Avoid incisions, stitches and surgery
Naturally improve gum attachment
Stop the spread of infection
Limit bone loss
Speed up recovery times
We typically combine your LANAP treatment with conventional deep cleaning procedures for the best results. Patients who receive laser periodontal therapy tend to see significantly improved tissue health compared to those who do not.
Symptoms of Gum Disease
Periodontal disease often presents itself as swollen, bleeding or receding gums. Bad breath and tartar buildup are also common. Unfortunately, this severe gum infection can raise your risk of cardiovascular disease, pneumonia, diabetes and more. It's also the leading cause of adult tooth loss.
When to Call a Dentist
If you're experiencing symptoms of gum disease or haven't responded to previous periodontal therapies, ask how LANAP can help. Contact us today for a second opinion.
CONTACT US

Laser Periodontal Surgery Columbia MD | (410) 964-2422