Dentures in Columbia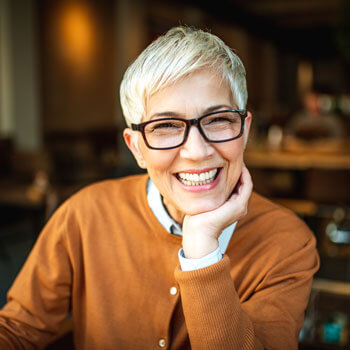 Effective and affordable, dentures remain a tried-and-true way to replace missing teeth. Fortunately for the wearer, the dentures of today are much more secure and comfortable than those of years past. At Oak Hall Dental, we offer high-quality complete and partial dentures to help restore the function and appearance of your smile. And because your smile deserves only the best, we use a local lab that does custom high-quality work.
One of the many advantages of coming to our practice is that you can get both
implants
and dentures done in one location. Your dentist will ensure the implants are properly seated and healed, before getting a full denture.
Implant Overdenture or Regular Denture
At your first appointment, we take impressions and create a custom-made tray for your upper and lower jaw. Then you will return for a second appointment, and we will take the final impression.
That impression gets sent back to the lab, and we will have you come back in to see how your bite is and if you want us to increase the vertical dimension of your face. Once the dentist determines everything looks good, the impression is sent back to the lab. The lab will set the teeth, and then you will return for a try-in.
During that try-in appointment, you can see your smile. If you want any changes in the teeth, such as the color, shape, or if you want the vertical dimension to be higher or less, we can make all those adjustments in that appointment. Once you are pleased with the color, fit, etc., we send the try-in back to the lab for the final process. Then you will return for the final denture. From the first appointment to getting your denture, it takes 6-8 weeks.
Partial Denture
For partial dentures, we offer two options: a metal base and an acrylic base. Overall, the metal is heavier and stronger, and most of the time it lasts longer. The disadvantage is it's metal, which some patients don't prefer. The acrylic is light in weight and flexible, but it won't last as long as metal.
If you're coming in for a partial, we'll take an impression, and send it to the lab for the design. If you opt for a metal base partial, you'll come back for a try-in. We have everything in wax, so you can see the color and shape of the denture. If you are happy with everything, we send the try-in back to the lab for the final product. It takes 5-6 weeks to get the final partial. We check the partial every six months when you come in for your 6-month cleaning appointment.
Caring for Your Dentures
You will be given instructions that include taking your dentures out at night and cleaning them. We will give you a cleaning solution. A week after you receive your dentures, we'll ask you to come in for a check to ensure your dentures are comfortable and there's no soreness or soft tissue damage. If you wear complete dentures, we'll have you come in for a yearly follow-up.
If you find at any time that the fit of your dentures isn't quite right, you can call our practice and see Dr. Ghorbani the same day.
Book an Appointment
Restore your smile affordably and effectively with dentures. Contact us today to schedule an appointment.

Dentures Columbia MD | (410) 964-2422